Benefits of Fermented Foods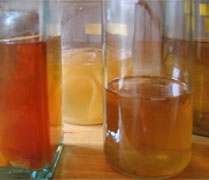 Mothers of Fermentation Photo: M. Karlin
Fermented foods taste better and are better for us than processed or even pasteurized foods. They are probiotic; alive with beneficial organisms that contribute to our digestive and therefore overall health.
Fermentation Transforms Food
During fermentation, whether natural or via a starter culture, the acidity in the fermentation environment is raised (and pH is lowered) to a level that is unfriendly to pathogen growth; keeping the food being fermented safe for consumption. The microorganisms break down complex molecules into simpler substances, and as a result the flavor and texture of the food is increased, the vitamins, minerals, and enzymes of the food are also increased and made more readily available for use in our bodies. In a sense, the fermented food is pre-digested; rendered bio-available. Our bodies can actually utilize fermented food to the maximum. Food that has been fermented is enhanced nutritionally and texturally, resulting in improved efficiency and absorption into our bodies, aiding our digestive system, and the health of our gut flora. The health of our gut flora is essential to our overall well being, and boosts our immune system.
Bring Fermented Foods into your Life
Add fermented foods into your daily diet. Because fermented foods are so good for us, eating a lot of them might sound like a good approach. However, if you are new to consuming fermented foods, too much all at once may produce digestive discomfort. That message from your gut doesn't mean that those foods are not good for you. The discomfort is a signal that your body needs time to adapt to the friendly, beneficial bacterial occupiers. And perhaps, your body needs a smaller amount.
The overall goal, from my perspective, is to incorporate a sensible amount and variety of fermented foods into one's daily diet of healthful foods, not to adopt an extreme all-fermented diet. As an example, eating a fermented food (such as sauerkraut or pickles) along with animal protein will aid in the digestion of that protein. Start with small 2 to 4 tablespoon portions as accompaniments to other foods to acclimate your body. Gradually increase to amounts that make you feel good or feel better. Over time, you'll get to know what the right amount is for your body.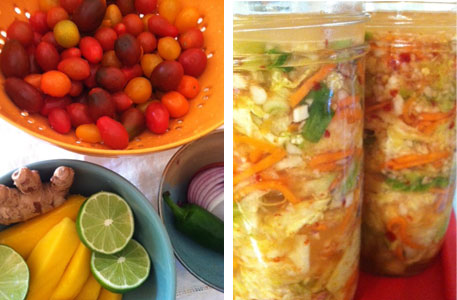 Sweet Tom Salsa, and Kimchi | Photo: M. Karlin