MASTERING FERMENTATION
Recipes for Making and Cooking With Fermented Foods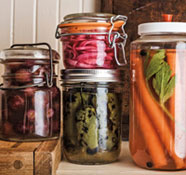 Welcome to the companion website to my most recent book, Mastering Fermentation, published by Ten Speed Press. I invite you to delve into these pages to get a taste of the breadth of fermented foods and beverages, along with helpful guidelines and delicious, doable recipes. Join me as I explore this intriguing world of fermentation. As a food enthusiast, and probably a DIYer, your interests include knowing more about where your food comes from, including the quality of that food. Moreover, you want a hand in making that food; whether cheese, kombucha, sausage, or beer.
Why Make Fermented Foods?
Fermentation is one of the oldest forms of food preservation, dating back to prehistoric times. The current interest in making fermented foods at home is a growing trend, not a fad. It is a return to real food; food with substantive flavor and nutritional value. As with other forms of preservation, fermentation allows for extended periods of storage before the food needs to be consumed. The usability of the food is extended beyond its natural season in a raw state. As a bonus, fermented foods taste better and are better for us than processed or even pasteurized foods. Many ready-made foods have been robbed of their naturally-occurring beneficial microorganisms by pasteurization and some high-temperature processes such as ultra-pasteurization. It is important to know that not all bacteria are bad for us. Fermented foods are probiotic; alive with beneficial organisms that contribute to our digestive and therefore overall health.
In the United States, we love a wide variety of savory and sweet ferments that many of us probably don't even realize are fermented. Fermented fruits (wine, vinegar, cider, salt-brined olives), fermented vegetables (sauerkraut, kimchi, pickles), fermented grains (beer, sourdough bread), fermented tea (kombucha), fermented honey (mead), fermented legumes and nuts (soy sauce, tofu, miso, nut butters), fermented meats (salami, cured sausage, pastrami), and fermented dairy (yogurt, kefir, cheese) are some of the most recognizable categories of popular fermented foods. You can successfully make all of these products at home.
My advice to you:
Make as many fermented foods as you can and you will feel enriched not only by the food itself but by the process. It's always rewarding to share and enjoy the fruits of your labor. There are many foods you can ferment at home with little time and effort on your part. Others you may choose, such as making aged cheese or curing meats, will take more attention. With proper planning, all are doable as part of one's daily life.

Now let's get fermenting!
Mary's featured in Sunset Magazine!
DIY Shrubs: Mary was featured in Sunset Magazine (Feb 2014). Read her article on flavorful drinking vinegars. Click here for PDF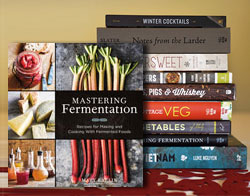 Mastering Fermentation Recommendations
Serious Eats has selected their 10 favorite cookbooks of 2013!
Serious Eats website
2013's best cookbooks according to the Oregonian
Oregonian article